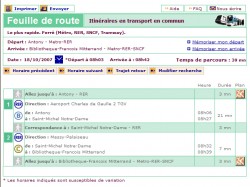 Comme je suis prévoyant, j'ai consulté le site RATP pour calculer le temps que j'allai mettre pour me rendre à mon travail demain jour de grève, j'ai eu une bonne surprise car la RATP m'indique que je mettrai exactement le même temps que les autres jours, c'est sûrement en rapport avec la création du service minimum.
Mercredi soir : 22h
Il n'est maintenant plus possible de calcule son temps de parcours…Je ne suis pas sûr que la raison invoquée soit la bonne
.
As I am anticipating, I consulted the RATP website to calculate the time that I went to get to work tomorrow strike day, I had a good surprise because the RATP tells me that I will put exactly the same time as the other days, it is surely related to the creation of the minimum service.
Wednesday evening: 22h
It is no longer possible to calculate its travel time … I am not sure that the reason given is the right one i>.