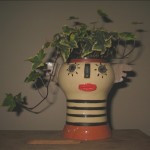 Ce vase est un remake d'un vase de l'époque pré colombienne que j'ai transformé en un vase un peu plus moderne. j'en ai fait une série et je compte les vendre, si jamais quelqu'un est interessé, il n'a qu'a me faire une proposition de prix.

This vase is an interpretation of a jar of pre-Columbian times that I have tranformed in a more recent aspect.
I made a series and I intend to sell it, if anyone is interested, give me a price.