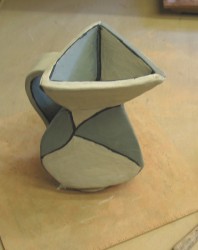 Je viens de recevoir un mail de Félix (Je me tue à vous dire qu'il s'agit de Félix Dufrance) et je ne résiste pas au plaisir de vous en faire part .
Salut Pêle-Mail (NDLR : s'il m'appelle comme ça c'est qu'il a envie que j'en parle sur mon Blog)
Ca y est je commence à avoir une première production de mon travail chez le potier (NDLR : Félix s'est inscrit à un cours de poterie chez le potier de Verrières le Buisson).
1- Ci-joint une photo d'une assiette : l'assiette elle-même m'a été fournie, le travail consistait uniquement à la décorer, pour ce faire j'ai fait un calque d'une rosace de la cathédrale de Chartre que j'ai reporté sur l'assiette et je l'ai ensuite
peindu
. (NDLR : Félix emploie assez couramment cette forme du verbe peindre, il faut comprendre qu'il s'est appliqué à ne pas peindre trop vite, ce qui pour lui est un effort considérable qui mérite d'être souligné).
2- Je joins aussi deux photos d'une cruche, la première est la reproduction d'un tableau de Picasso bien connu, qui m'a servi de modèle pour réaliser la cruche représentée sur la deuxième photo, j'ai ainsi restitué au monde réel la cruche du tableau. C'est à ma connaissance une pièce unique, je ne connais pas d'autre exemple d'une telle restitution. Il reste à la passer au four et à la retoucher (NDLR : j'espère juste qu'un esthéticien fou ne prendra pas exemple sur cette expérience pour restituer au monde réel la vision qu'avait Picasso de Dora Maar.)
3- Enfin une dernière photo, qui représente mon premier travail, ce fameux plat à Cake dont je t'ai déjà parlé. Je pense qu'un émaillage rouge eut été plus approprié mais j'ai hésiter à profiter de l'engobe de la cruche et finalement j'y ai renoncé. (NDLR : L'engobe est un revêtement mince à base d'argile délayée (colorée ou non) appliqué sur une pièce pour en modifier sa couleur naturelle)
Pour la suite je n'ai pas encore décidé de ma prochaine production, je vais me concentrer sur le tour, je commence presque à centrer la terre, ce qui beaucoup plus difficile qu'il n'y parait.
I just received an email from Félix (I'm killing to say it is Félix Dufrance) and I can not resist the pleasure of sharing it with you.
Hi Pele-Mail ( Editor's note: if he calls me like that it's because he wants me to talk about it on my Blog )
That's it I begin to have a first production of my work at the potter ( Editor's note: Felix has enrolled in a pottery class at the potter of Verrières le Buisson ).
1- Here is a photo of a plate: the plate itself was provided to me, the work consisted only in the decoration, to do this I made a layer of a rosette of the cathedral of Chartre which I reported on the plate and then
peindu
. ( Editor's Note: Felix uses this form of the verb to paint quite fluently, it must be understood that he has applied himself not to paint too fast, which for him is a considerable effort worthy of to be underlined ).
2- I also add two photos of a jug, the first is the reproduction of a well-known Picasso painting, which served me as a model to make the jug represented on the second photo, and I returned to the world real the pitcher of the painting. It is to my knowledge a unique piece, I do not know any other example of such a restitution. It remains to bake and retouch ( Editor's note: I just hope that a mad esthetician will not take example on this experience to restore the real world Picasso's vision of Dora Maar.
3- Finally one last photo, which represents my first work, this famous Cake dish of which I already spoke to you. I think a red enameling was more appropriate but I hesitate to take advantage of the slip of the jug and finally I gave it up. ( Editor's note: The slip is a thin coating based on diluted clay (colored or not) applied on a piece to change its natural color )
For the rest I have not decided on my next production, I will focus on the turn, I almost start centering the earth, which is much more difficult than it seems.
>/div>