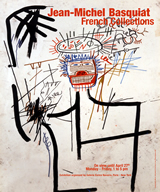 What a surprise! I have just booked my flight for New-York, so I search on Internet what are the current exhibitions in NY, and I found this news below:
The French Cultural Services of the French Embassy are hosting the exhibit: "Jean Michel Basquiat, French Collections" until April 27. Of the 41 works on display, most have never before been exhibited in the United States.
Brooklyn-born Jean Michel Basquiat was one of the 20th century's major artists. His career as an artist lasted no more than eight years but he left us with a really prolific and forceful body of work.
Using graffiti and street imagery, cartoons, mythology and religious symbolism, Basquiat's drawings and paintings explore issues of race and identity.
Last week I saw the movie "Basquiat", an interesting movie, where the relationship between Basquiat and Andy Wharol is described in a very surprising manner : Andy Wharool was aware Basquiat was a great painter, but not him
Remark : On Labor Day we don't work. So on Francophony Day, I understood, we have to avoid french for a better celebration.